Prisoners of the Third Reich: A Sapper's Story
Crete, 1 June, 1941: Overwhelming German airborne forces overrun the gallant Allied resistance defending the Greek island of Crete in the World War II Battle for Crete. They capture 5000 hungry and abandoned Allied troops, attempting an evacuation to Egypt. 'Arty' Dawson, an Aussie Sapper in the Royal Engineers, Sixth Division, finds himself an unwilling POW.
This gripping true story traces Arty's two breathtaking escape attempts in Greece and his successful final escape to American lines, from deep inside Europe, as German soldiers flee the advancing Russian Front in the closing stages of the Third Reich.
Arty's survival is largely due to luck, combined with the cooperation of his comrades, as well as unexpected and significant help from the Red Cross and the heartfelt forces of family love, Importantly, Arty, a quintessential Aussie bloke, raised in the Great Depression years, finds secret love to keep his spirits alive during the darkest of times.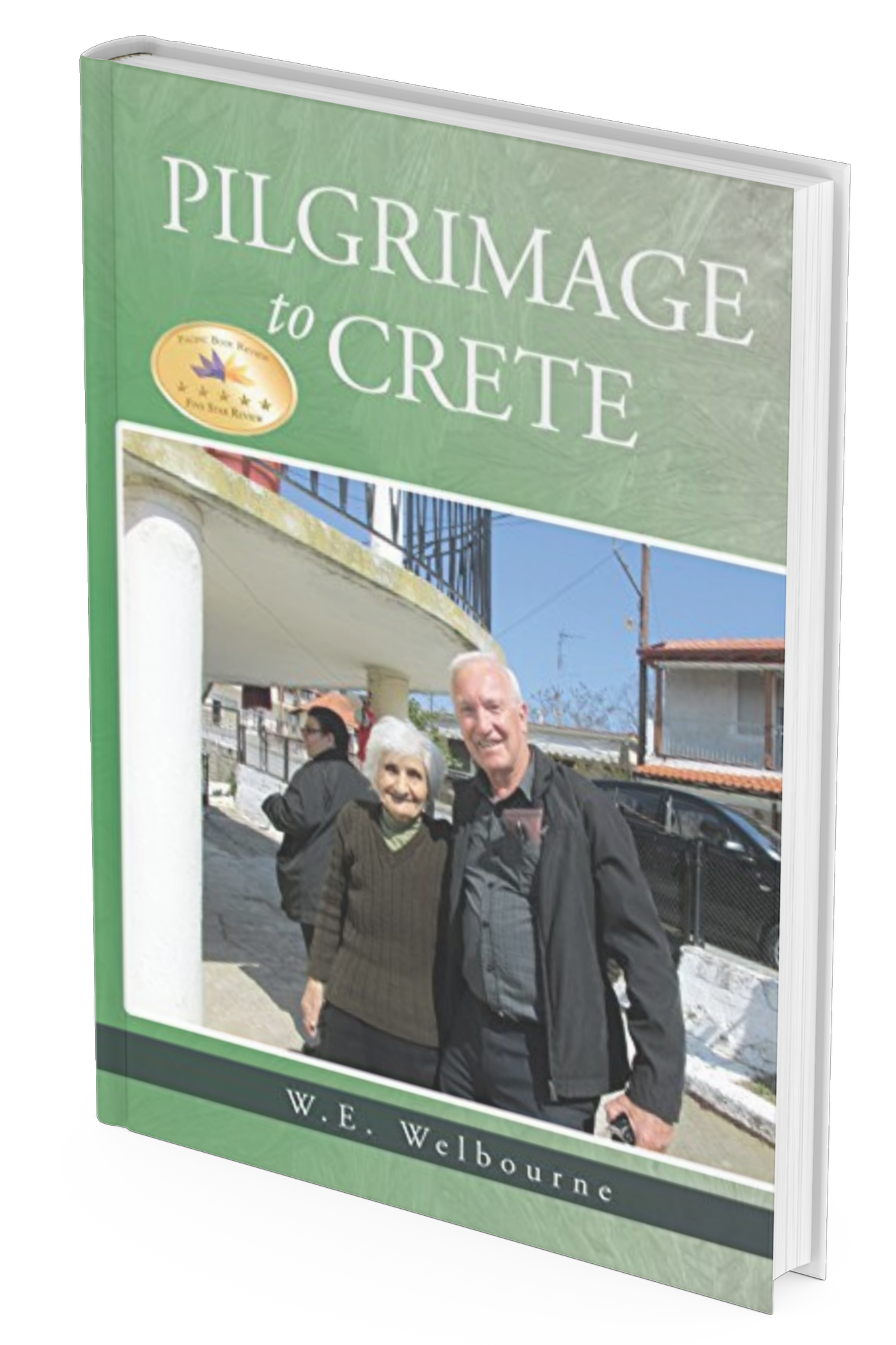 At the outset of the Second World War on September 1, 1939, young Aussie diggers are rushed to assist Britain in its hour of need to the nearest European war zone in the Middle East and North Africa. My Uncle Arthur, young Arty is one of these a sapper with 6 years militia training as an army engineer. The ANZAC forces sweep through Libya, from Egypt to Benghazi, defeating superior numbers of heavily armed Italians the first Allied land victory of the war.
Ill-equipped and lacking promised supplies, the ANZACs are then inappropriately redirected from North Africa to Greece to help the Greeks face the overwhelming German advance. Retreating to Crete, Arty is captured in the Battle of Crete and becomes a POW. I am motivated to visit the conflict zones of Gallipoli and to follow my uncles wartime exploits from the time of his capture in June 1941 until his third and final escape from a German work camp in Czechoslovakia in 1945.
Modern day travel makes it possible to visit not only the more recent wartime scenes of Central Europe, but also to visit the sites of classical civilizations to discover the history, art and cultures of the Mediterranean. Accompanying me on my journey is Avril who was born in England and has vivid wartime memories of the conflict from her childhood.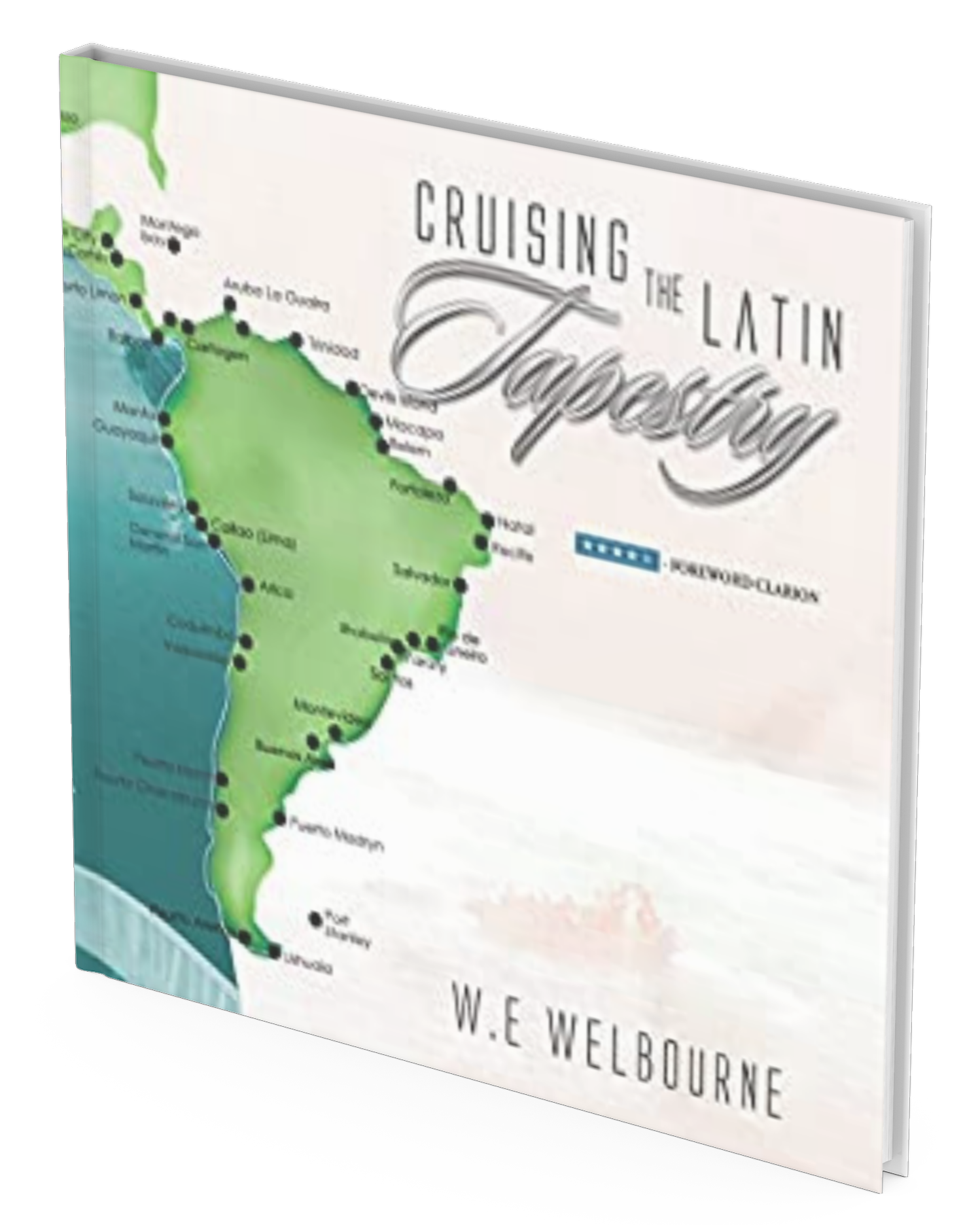 Cruising the Latin Tapestry
Cruising the Latin Tapestry is a travelogue and adventure story of the MV Voyagers circumnavigation of South America in early 2013 as experienced by the author and his partner. It provides an interesting insight into the extraordinary beauty and colourful vigour of Latin America that a traveller can expect by visiting this fascinating continent.
BlueInk Review
Prisoners of the Third Reich, the tale of an Aussie "Sapper" (a soldier responsible for building roads and bridges, laying and clearing mines, etc.) captured in Crete in 1941, lays bare the daily life of a POW in WWII German prison camps. W.E. Welbourne details the life of his uncle Arthur (Arty) Dawson, drawing heavily from Dawson's war diary. Written in his uncle's voice, the narrative takes readers from Dawson's growing up in Lambron, New South Wales, through his military training, wartime experiences in North Africa, Greece and Crete, and capture and imprisonment. Dawson escaped three times. Unlike the first two, in which he was recaptured, the third escape—in spring of 1945, from Stalag VIIIB in the Sudetenland with the help of Czechoslovakian Resistance fighters (and a terrifying lift on a Russian tank column)—was successful. After that, though, more worries confronted Dawson. After six years where a starving man's constant search for food took precedence over everything else, where lying and theft were not only acceptable, but necessary to survival and constant paranoia reigned supreme, Dawson wondered: when he finally was shipped home and saw his family, "Will I be able to cope with this? Will they be able to cope with me?" Not everyone could cope: After release, one of Arty's POW brothers drank himself to death. The daily life of a soldier has often been described as "periods of utter boredom, punctuated by periods of sheer terror." In its unique way, that of a POW follows this pattern, and Welbourne skillfully portrays the hour to hour, day to day challenges. The book is long, but easy to read, with simple and straightforward writing. Some will find the beginning, about Dawson's upbringing, less interesting than the remainder of the book. It could have been easily trimmed, with the narrative focusing on the war and post-­war years. Additionally, the aircraft and weapons pictured on the front cover, the aircraft on the back cover, and the helicopter image (a Huey) decorating the beginning of each chapter are unfortunate choices, since they didn't exist in WWII and will put off readers familiar with the period. Nonetheless, if you want a sense of what POW life was like in WWII German Army prison camps, this over-­long, but surprisingly engaging and easy-­to-­read biography should find its way onto your reading list. Also available in hardcover and ebook.
Benjamin Welton | Foreword Reviews
Prisoners of the Third Reich views history through the experiences of a brave but normal man and his fellow soldiers who survived the horrors of the Nazi war machine. W. E. Welbourne's historical biography Prisoners of the Third Reich focuses on an Australian soldier who escaped the tyranny of Nazi prison camps as the war destroyed all of Europe. Arthur "Arty" Dawson was an idiosyncratic bloke who, within the book, comes to represent a generation of Australian men. In 1933, during the dark days of the Great Depression, nineteen-year-old Dawson signed up with an engineering militia unit to supplement his income and to put aside a little money for his family. Eight years later, after Australian and New Zealand soldiers slugged it out with Italian and German troops in the deserts of North Africa, Dawson and his fellow "diggers" (Australian slang for soldiers) were sent to Crete to stop a German invasion. Berlin leaned on its new paratrooper units, and despite incurring terrible losses, the Nazis won the day. Dawson and his friends found themselves tired and starving inside of a grim camp for prisoners of war. Dawson's story is magnificent and is told in great, humanistic detail. Although battered and bruised, he attempted to escape German captivity several times, including during the final days of Hitler's regime in 1945. His story moves well despite the book's heft and weight. The book's paragraphs are lean and compact, and military jargon is kept to a minimum. The book privileges its biographical portions: Dawson is always at the center of the action. This book is divided into three sections: one concerning Dawson's life before the war, one concentrating on his wartime experiences, and one focused on his life after the war. In the first and final parts, the portrait of Dawson is one of an ordinary man. In spite of experiencing poverty as a young man and harsh captivity as an adult, he summarizes his life as a success, lived in the name of king and country. His steadfast and humble patriotism makes his story a captivating study. It gives gravitas to the ordinary men who made up the soldiering classes in both the Allied and Axis armies. Even when the action slows to a crawl, as when Dawson and his fellow soldiers are transferred from one Nazi camp to another, general interest does not wane. The point of this story is the regular soldier's ability to withstand hell on Earth. The book's insights into the plights of the Commonwealth armies who held the line against the Afrika Korps and led the charge against the Japanese in the Pacific are invaluable because they are so often forgotten by the world at large. Prisoners of the Third Reich views history through the experiences of a brave but normal man and his fellow soldiers who survived the horrors of the Nazi war machine.
Susan Waggoner | Foreword Reviews
W. E. Welbourne's Cruising the Latin Tapestry provides a detailed and satisfying account of a multimonth cruise circumnavigating South America. In December of 2012, Welbourne, a seasoned traveler, set sail with his equally adventurous partner, Avril, on a cruise ship specializing in off-the-beaten-track excursions. To reach their takeoff point, the two retirees undertook what would be a full vacation for most: flying from Melbourne, Australia, to a Hawaii for a three-day stay, then on to Los Angeles, Miami, and—finally, after five days in transit—to their point of departure in Montego Bay, Jamaica. What follows is a daily diary of the couple's experiences, both on board the ship and off, during their four-month cruise down the Atlantic coast of South America, around its southern tip, and north along the Pacific coast. Ports of call included such well-known spots as Trinidad and Rio de Janeiro, as well as more exotic sites like Machu Picchu and Devil's Island. Refreshingly, this isn't one of those inner-search-for-self or discovery tales. The book's focus is on the attractions of each port of call and the travel experience itself. No detail is overlooked. One initially wonders whether descriptions of in-flight meals and listings of daily lectures and activities will bog down the narrative. Not to worry—the book's sprightly tone moves it briskly along, like a traveling companion who finds everything interesting and makes it so in the telling. Eventually, the accretion of detail does a good job of replicating the actual experience of lengthy travel, blending unfamiliar sites and experiences with homey comforts, like finding a favorite dish on the menu or anticipating the cocktail of the day. Whether the book intends to or not, it also functions well as a travel guide. For those who know little about South America or who would like to travel there, the book offers excellent quick takes on various sites and destinations to choose from. For those curious about the cruise experience, it's an accurate description of the range of activities and amenities to be enjoyed. The book also works as a lesson on how to travel. With years of travel behind him, Welbourne is far from the jaded adventurer. He and his companion are consistently willing to be surprised and delighted, and they eagerly go, do, and see everything on offer. They take care to stay in shape during the trip, turning in early at night, using stairs rather than elevators to banish deck-chair lethargy, and eating sparingly rather than indulging in heavy, nap-inducing meals. Snapshots taken along the way, an index of sites visited, supplementary maps, a "history index," and a bibliography further add value to an already worthwhile read. Cruising the Latin Tapestry is an absorbing introduction to an often-overlooked travel destination. The geniality and enthusiasm of Welbourne and his companion are infectious, and one feels glad to have been seated at their table for the voyage.
Kirkus Reviews
World War II as seen from an Australian soldier's unique perspective takes on unexpected shadings in Welbourne's novelization of his uncle's military experiences. Welbourne begins the quietly heroic story of Arty Dawson in the late 19th century, sketching in his family's life in the opening chapters. Driven by a mix of economic factors and an understated patriotism, Arty enlists in the 1st Field Company of Engineers in 1933. By the time war is declared in 1939, Arty is a corporal and prepared to take to the battlefield as a field engineer. After serving in Africa, Arty and his men ship off to Greece, where they are to help defend Crete against the Germans. There, the Germans outflank the Allied forces, and although thousands are evacuated, Arty and his men are captured, beginning a four-year period of internment, escape, and recapture for them. Based primarily on Arty's war diary and the Dawson family's records and recollections of the time, Welbourne creates a vivid, detailed narrative centered on the singular character of Arty. Pragmatic, self-aware, passionate but untouched by hatred, Arty is an immediately sympathetic man whose personal foibles are counterbalanced by loyalty and good humor. U.S. readers might be surprised by Arty's perspectives on "Yanks"—whom he considers far less vital to the war effort than American history portrays even as he acknowledges the worth of American industry to the effort. He displays no antipathy to anyone, however, not even the Germans who kept him captive. If there is a flaw to Welbourne's humane story, it's the pacing; certain stretches of the narrative, such as Arty's sojourns in the Greek countryside after escaping custody, seem to take place in real time, and the book could have used a good trim. While there is a certain poetic justice in the Greek sections that feel like an epic in the telling, it keeps the overall story from taking flight. An inconsistently paced but moving story for fans of historical works and quintessentially good protagonists.
Subscribe for Promotions!